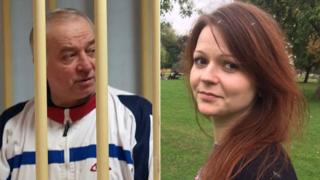 The government's emergency committee Cobra is to be updated on the police probe into the suspected poisoning of a former Russian double agent.
Sergei Skripal, 66, and his daughter Yulia, 33, have spent a third night in a critical condition in hospital after being found unconscious in Salisbury.
Scientists at the UK's military research facility at Porton Down are examining an "unknown substance".
Met Police counter terrorism officers have extended cordons in the city.
A bridge was shut on Tuesday evening, while Salisbury's Zizzi restaurant and The Bishop's Mill pub remain sealed off.
Mr Skripal and his daughter were found slumped and unconscious on a bench outside the Maltings shopping centre on Sunday afternoon.
The Cobra meeting will be chaired by Home Secretary Amber Rudd. The cross-departmental committee meets to examine government responses to national emergencies.
Scotland Yard, which took over the investigation from Wiltshire Police on Tuesday, said it was keeping an "open mind" and the case had not been declared a terrorist incident.
Assistant Commissioner Mark Rowley said: "This investigation is at the early stages and any speculation is unhelpful…
"We would like to reassure members of the public that this incident is being taken extremely seriously and we currently do not believe there is any immediate risk to the wider public."
How will experts know if ex-spy was poisoned?
The 'quintessentially English' home of a Russian spy
Skripal case highlights UK's Russia dilemma
BBC Newsnight's diplomatic editor Mark Urban said scientists at Porton Down have still not identified the substance the pair are thought to have been exposed to, with one official saying they were being treated for "symptoms rather than causes".
Prof Alastair Hay, from the University of Leeds, said test results could take several days.
He said: "Individuals cannot provide unlimited amounts of blood for testing so investigations will be guided by the clinical team."
Two police officers caught up in the suspected contamination were treated in hospital for minor symptoms, before they were given the all clear.
It is understood their symptoms included itchy eyes and wheezing.
A third member of the emergency services remains in hospital.
Relatives of Col Skripal, who was convicted in Russia in 2006 of spying for Britain, have told the BBC Russian Service that he believed the country's special services might come after him at any time.
His wife, elder brother and his son have died in the past two years, some in mysterious circumstances, the family believes.
Ms Skripal lives in Moscow and has visited her father in the UK regularly, especially during the past two years.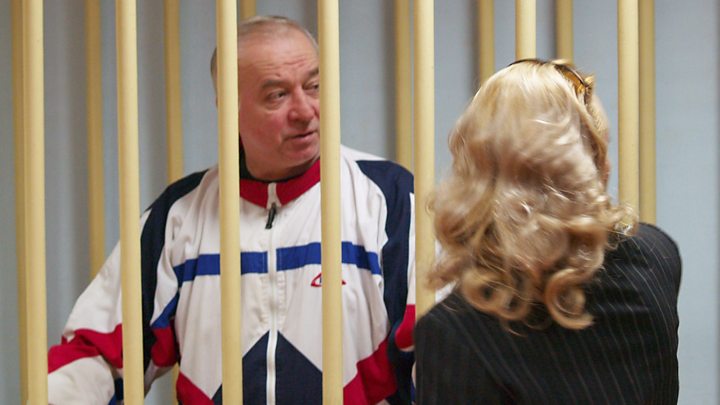 On Tuesday, Foreign Secretary Boris Johnson told MPs the UK would respond "robustly" to any evidence of Russian "state responsibility" in the case.
He said that could include sanctions and asking UK dignitaries not to attend the World Cup in Russia this summer.
The foreign secretary said he was not pointing fingers, but described Russia as "a malign and disruptive force".
Get news from the BBC in your inbox, each weekday morning
The possibility of an unexplained substance being involved has drawn comparisons with the 2006 poisoning of Alexander Litvinenko – a public inquiry concluded the killing of the Russian dissident had probably been carried out with the approval of the Russian President, Vladimir Putin.
Russia has insisted it has "no information" about what could have led to the incident, and says it is open to co-operating with British police if requested.
In a statement, the Russian embassy in London said: "Media reports create an impression of a planned operation by the Russian special services, which is completely untrue."
Who is Sergei Skripal?
Colonel Skripal, a retired Russian military intelligence officer, was jailed for 13 years by Russia in 2006.
He was convicted of passing the identities of Russian intelligence agents working undercover in Europe to the UK's Secret Intelligence Service, MI6.
In July 2010, he was one of four prisoners released by Moscow in exchange for 10 Russian spies arrested by the FBI as part of a swap. He was later flown to the UK.
According to BBC Newsnight's diplomatic editor Mark Urban, in recent years Col Skripal gave lectures at military academies offering insight into Russia's foreign military intelligence agency, the GRU.
Read more about Sergei Skripal's background here.
Putin, power and poison: Russia's elite FSB spy club
Do you have any information to share on this story? Email [email protected].
Please include a contact number if you are willing to speak to a BBC journalist. You can also contact us in the following ways:
WhatsApp: +447555 173285
Tweet: @BBC_HaveYourSay
Send pictures/video to [email protected]
Upload your pictures/video here
Send an SMS or MMS to 61124
You can receive Breaking News on a smartphone or tablet via the BBC News App. You can also follow @BBCBreaking on Twitter to get the latest alerts.