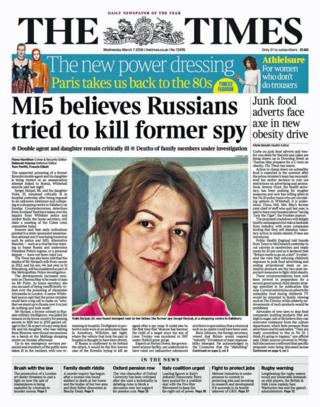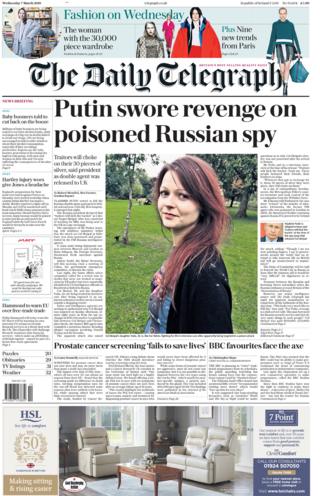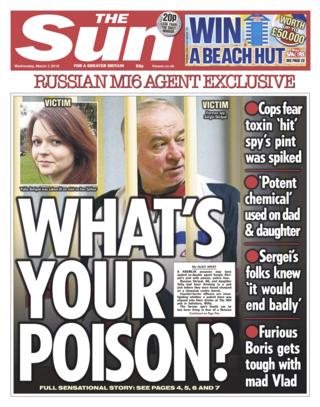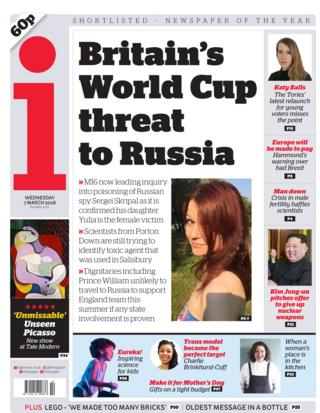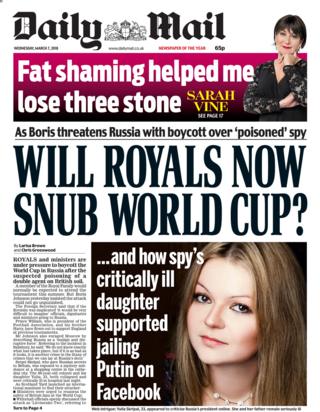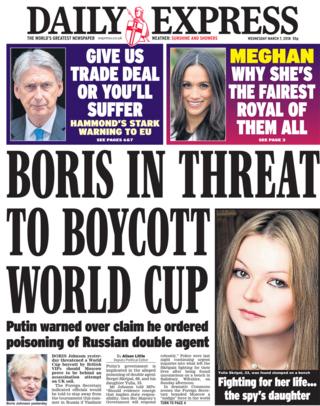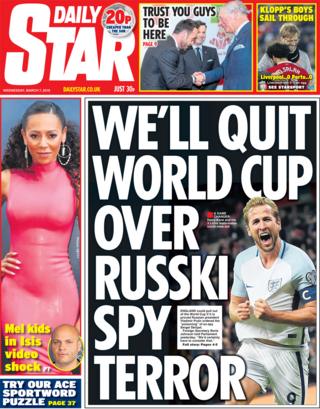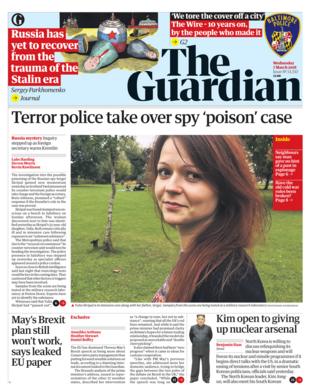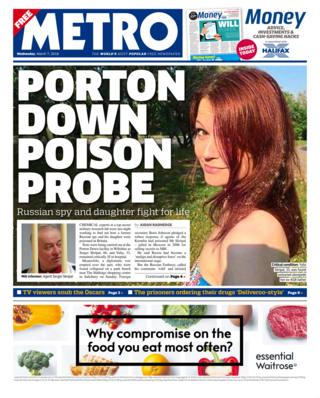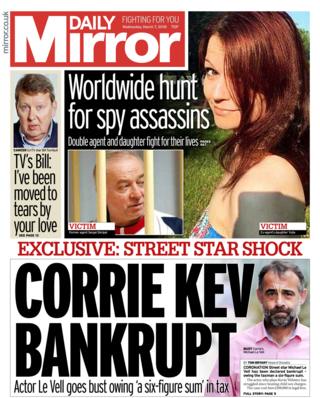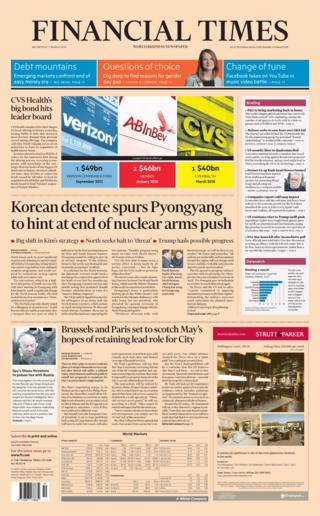 The papers and news websites continue to pore over the details of the suspected poisoning in Salisbury of former Russian double agent Sergei Skripal and his daughter Yulia.
According to the Times, Whitehall sources say the police and MI5 are treating it as a suspected assassination attempt linked to Russia although they have not ruled out alternative theories, such as a rival faction wanting to frame Russia and undermine President Putin's regime.
An analysis in the Guardian suggests Mr Skripal may have been punished for having a continuing relationship with British intelligence, or the suspicion of one.
The Sun turns to the hunt for whoever did it with a huge headline: "Find lady with a red handbag". It claims a blonde woman apparently seen in CCTV footage walking with an older man near the bench where the stricken pair were discovered was initially thought to be Yulia, but is is, in fact, a suspect.
Several papers carry reports that Mr Skripal feared for his life after the mysterious deaths of his wife and son. The Daily Mail says that, although his wife's 2012 death certificate gave the cause as cancer, neighbours say she was killed in a car crash.
The Financial Times says any evidence implicating Moscow in the poisoning would send UK-Russian relations, which are at a post-war low, into the deep freeze.
A former associate of the murdered ex-KGB agent Alexander Livinenko is quoted by Huffpost saying "this has all the hallmarks of a Putin assassination".
Yuri Felshtinsky believes the Russian president is warning other agents never to defect, while Ed West in the Spectator asks: "Will Britain stand up to Russia?"
Russian newspapers are also taking an interest. Komosomolskaya Pravda is dismissive of the whole affair, finding it "amazing" that the "odious" Boris Johnson actively supports new sanctions while admitting that "it is too early to draw conclusions".
Get news from the BBC in your inbox, each weekday morning
The Daily Mirror highlights the case of a child who it says was forced to wait more than more than six days for a hospital bed.
It says the case, in Derby, is included in figures for the last 12 months showing A&E delays at their worst levels in NHS history.
Derby Teaching Hospital tells the paper the child, who was awaiting mental health treatment, was not on a trolley, but being cared for in a paediatric assessment unit.
Moderating force
Several papers report a major new study suggesting that screening men for prostate cancer may do more harm than good.
The Daily Telegraph says the largest ever trial funded by Cancer Research UK found that the screening made no difference to death rates and often detected tumours that were harmless while missing others that were fatal.
"Symptomless men," says the Sun, "often underwent surgery for slow-growing tumours that were harmless".
According to the Times, any screening is better than no screening but better screening is needed.
Across the Atlantic, the big news is the resignation of Donald Trump's top economic adviser, Gary Cohn
The New York Times says it leaves the president surrounded by people with strong protectionist views.
According to the Washington Post, Mr Cohn was a financial heavyweight who was regarded by business executives and foreign leaders as a moderating force.
Hedonistic baby boomers
Finally, the Daily Mail reports that medical experts have urged GPs to question the over-50s about their drinking and drug taking habits.
A report by the Royal College of Pyschiatrists says "hedonistic" baby boomers have very liberal attitudes after growing up in the 1960s and 1970s.
Some are also self-medicating to combat loneliness, insomnia or chronic pain and the paper says GPs are being advised to look out for signs, such as slurred speech or abnormal liver test results.