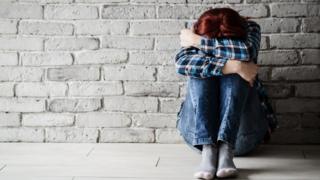 Suspected domestic abusers could be electronically tagged under government proposals for England and Wales.
Other measures in the draft Domestic Abuse Bill include tougher sentences for child abusers and more protection for victims who testify in court.
There is a new definition of economic abuse – if people are denied access to jobs or money, or forced to take loans.
Prime Minister Theresa May said the bill could "completely transform the way we tackle domestic abuse".
Proposed Domestic Abuse Protection Orders (DAPOs) would allow police and courts to intervene earlier where abuse is suspected.
The orders would allow courts to electronically monitor suspects' whereabouts before they have been found guilty of – or even committed – a crime.
The appalling cost of domestic abuse
Tougher sentences for domestic abuse
DAPOs would bring together elements from existing protective orders, while giving courts the power to set a wider range of restrictions and for longer periods than the current 28 days.
Other measures being considered include:
The creation of an independent domestic abuse commissioner
Giving domestic abuse victims the same status in court as those who have suffered modern slavery or sex offences
Putting into law the scheme where police can disclose information about previous violent offending by a new or existing partner.
It is estimated that almost two million adults in England and Wales have been victims of domestic abuse in the past year while 95 women and men were killed by current or former partners in 2016-17.
'Radical change'
Home Secretary Amber Rudd said: "It is appalling that in 21st-Century Britain, nearly two million people every year – the majority of them women – suffer abuse at the hands of those closest to them.
"Through this bill I want to fundamentally change the way we as a country think about domestic abuse, recognising that it is a crime that comes in many forms – physical, emotional, economic."
Suzanne Jacob, chief executive of domestic abuse charity SafeLives, said: "We welcome the focus on the urgent need to hold perpetrators to account and to prioritise the needs and safety of women and girls.
"The time for piecemeal sticking plasters is over, we need radical change."
Katie Ghose, chief executive of Women's Aid, said the bill was an opportunity to "include policies on housing, education, health, immigration and the welfare system… to ensure that every survivor and her child can safely escape domestic abuse".
But she cautioned the the "ambition will be undermined if there is not a long-term, sustainable funding plan for refuges in place".
The consultation period for the draft bill will run until 31 May.