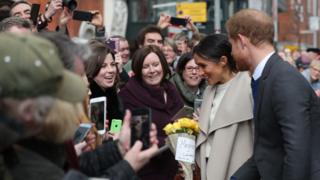 Prince Harry and his fiancée, Meghan Markle have met members of the public who gathered to catch a glimpse of them in Belfast.
The surprise trip to Northern Ireland is one of a string of engagements ahead of their wedding on 19 May.
The couple enjoyed lunch at the historic Crown Bar before shaking hands with some of those huddled outside.
The Crown Liquor Saloon is one of Belfast's most iconic buildings and is owned by the National Trust.
Prince Harry 'thrilled' to marry Meghan Markle
Couple reveal royal wedding details
Staff from the National Trust shared some of the pub's history with the prince and Ms Markle before a private lunch.
The couple's tour began at the Eikon Centre on Friday morning, where they were shown the work of Amazing the Space, a cross-community peace initiative.
It was launched by Prince Harry in September 2017 and empowers young people in Northern Ireland to become ambassadors for peace in their communities.
The royal couple surprised a huge crowd of unsuspecting children when they arrived to take their seats in the front row for the event.
They received a rapturous reception as they entered the performance arena to watch a fusion of song, dance and uplifting messages from young people as they delivered their "peace pledges".
They briefly joined some of the performers on stage at the end of the event when they were presented with a picture of a "peace tree".
Later they will travel to the Belfast campus of Northern Ireland's next generation science park, Catalyst Inc, to meet some of Northern Ireland's brightest young entrepreneurs and innovators.
The trip is part of the couple's public engagements in the run-up to their wedding on 19 May. It is their first official, joint visit to Northern Ireland.
Invitations to their wedding were issued on Thursday.