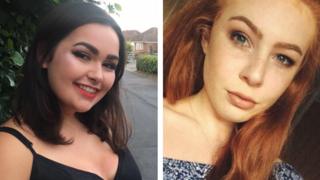 Two 18-year-old college friends were found dead more than seven hours after their car careered off the road and crashed into trees, police have said.
Ella Alford and Aimee Clayton were found in a Fiat 500 at the side of the A30 near The Hatch pub in Basingstoke, Hampshire, at 05:00 BST on Wednesday.
Police believe the car hit some trees at about 22:30 the previous evening.
The women went to Peter Symonds College in Winchester whose principal said they "both had such bright futures ahead".
Stephen Carville added: "We are deeply saddened to hear of the loss of two of our students. They both had such bright futures ahead of them.
"We will be doing our very best to support our students."
He added: "In time, we will talk to the students and parents about the best way that we can celebrate the lives of these girls and find some way of creating a lasting memorial."
Both women, who were the only people in the car, were pronounced dead at the scene.
Hampshire Constabulary is appealing for motorists who drove along the road at about 22:30, particularly those with dashcam footage, to come forward.