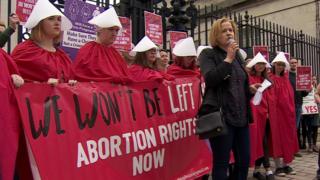 Organisers of a pro-choice rally in Belfast have handed over abortion pills to the police.
At the demonstration, three women took what appeared to be abortion pills. A mini-robot that can be used to distribute abortion pills was also handed over to police.
The PSNI spoke to one of the women afterwards but she was not arrested.
A small anti-abortion protest also took place alongside the demonstration at Laganside Courts on Thursday.
'Seized'
A police inspector approached the organisers beforehand and warned them that if the robot was used to distribute the pills it could be seized.
After 15 minutes of negotiations on the street outside Laganside Courts, a Dutch doctor, who was part of the protest, handed over the robots and the pills to the PSNI.
Referendum
Following the Republic's overwhelming vote in favour of abortion law reform, Northern Ireland will soon be the only part of either the UK or Ireland where abortion is illegal unless there is a serious risk to a woman's life or health.
Unlike other parts of the UK, the 1967 Abortion Act does not extend to Northern Ireland.