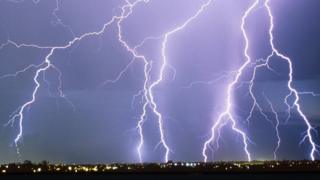 Parts of the UK are braced for torrential rain as severe thunderstorms are set to hit later.
A Met Office amber warning – meaning a potential risk to life – will be in force across Wales and the South West from 16:00 BST Thursday until 06:00 on Friday.
The flooding of homes is "likely and could happen quickly", and travel could be disrupted, the Met Office said.
Up to 80mm of rain is predicted to fall in fewer than three hours.
A yellow warning for rain has also been issued for the South East, the Midlands and East Anglia.
The weather is predicted to move into the northern England, Scotland and Northern Ireland on Friday morning, with flooding and possible disruption to travel predicted.
The amber warning area is also forecast to expand into much of the South East on Friday.
A Met Office spokesman said Thursday's thunderstorms are expected to be slow-moving, but may merge together to create larger storms.
In the amber warning areas there may be travel delays, road and rail closures, power cuts and a potential risk to life and property.
There will also be frequent lightning and the possibility of hailstones.
"You should think about changing your plans and taking action to protect yourself and your property," said the spokesman.
"You may want to consider the impact of the weather on your family and your community and whether there is anything you need to do ahead of the severe weather to minimise the impact."
A yellow warning is also in place for Saturday across Scotland and Northern Ireland, with heavy showers and thunderstorms expected to develop in the late morning.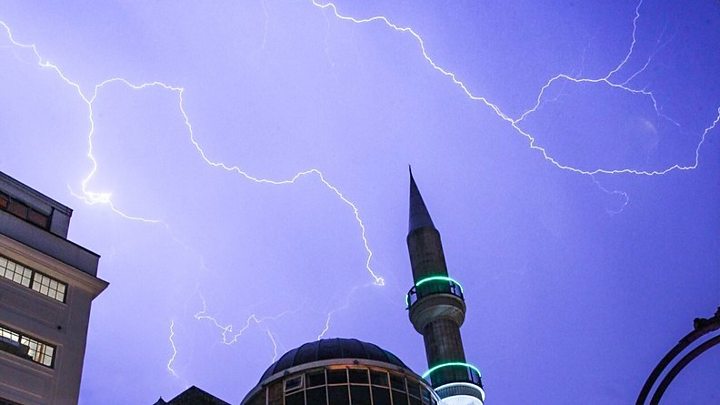 The Environment Agency has urged people to check their flood risk – especially if they are travelling to unfamiliar areas over half term.
The organisation also said that the South West, Hampshire and the West Midlands are most at risk, with urban areas most likely to suffer from flash flooding.
Kate Marks, flood duty manager at the Environment Agency, said teams would work "24/7" to operate flood defences, clear blockages in rivers and streams, and offer support at incidents of surface water flooding.
"With heavy rain forecast during rush hour, drivers should stay up to date with the latest weather forecast and travel information before making their journey," she added.
"We remind people not to drive through flood water as just 30cm can move your car."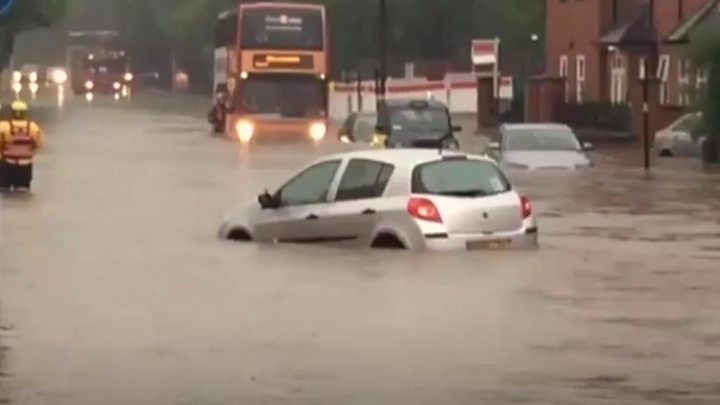 The bad weather follows torrential storms last weekend that led to a man in his 80s dying after his car was submerged in flood-waters in Walsall.
In Birmingham, more than a month's rainfall hit parts of the city in an hour on Sunday. Areas of Northamptonshire were also flooded.