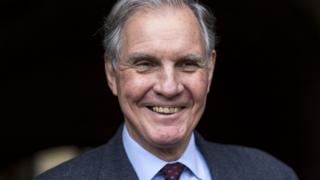 Former cabinet minister Jonathan Aitken, who was jailed for 18 months in 1999, is becoming a prison chaplain.
He is among 32 deacons being ordained at St Paul's Cathedral.
The ex-Tory MP, who spent seven months in prison for perjury and perverting the course of justice, will be based at St Matthew's Church Westminster.
Mr Aitken, who found his faith while serving his prison sentence, will become the Rev Jonathan Aitken and work as an unpaid prison chaplain.
Old Bailey celebration
The ordination ceremony is the first to be conducted by a female bishop of London – the Rt Rev Sarah Mullally.
A celebration after the service is due to take place at the Old Bailey, where he was handed his prison sentence 19 years ago.
He admitted to perjury and perverting the course of justice, following the collapse of his libel case against the Guardian and World in Action.
While in prison he became part of a prayer group which included murderers and an armed robber, he told the Times.
After being released he took a degree in theology at the University of Oxford.
A statement form the diocese of London, in the Telegraph, said: "Jonathan Aitken, like his fellow candidates, has been through the process of discernment.
"Once ordained, his specific focus will be on prison ministry."