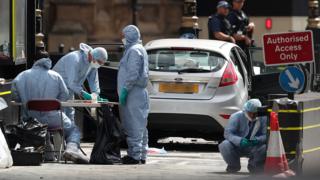 The man being held on suspicion of terrorism after the Westminster car crash has been named as Salih Khater by government sources.
The 29-year-old British citizen, originally from Sudan, is being questioned in south London.
Police have been searching three addresses in Birmingham and Nottingham as part of their investigation.
Three people were injured after the vehicle swerved into cyclists and pedestrians on Tuesday morning.
The silver Ford Fiesta then crashed into security barriers outside the Houses of Parliament.