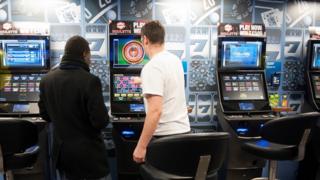 The maximum stake for fixed odds betting terminals (FOBT) should be cut to £30 or less, the UK's Gambling Commission has recommended.
It comes after consultation on FOBTs for the Department for Digital, Culture, Media and Sport (DCMS).
The DCMS wants "to reduce the risks that consumers, especially those that are vulnerable, face from gambling".
It says the maximum stake on "slots games", which are like traditional fruit machine games, should be £2.
Fixed-odds terminals were introduced in casinos and betting shops from 1999, and offer computerised games including roulette and blackjack at the touch of a button. Currently, people can bet up to £100 every 20 seconds on electronic casino games.
The Gambling Commission's report said the £30 limit for casino type games had been recommended, because any limit above this would have "a significant effect on the potential for players to lose large amounts of money in a short space of time".
The government now has to decide whether to accept the commission's advice on the stake limit, or decide to impose a lower figure.
The government began to look at FOBT machines in October 2016, when it made a "call for evidence" on the number and location of terminals and the measures in place to protect players.
Gambling Commission chief executive Neil McArthur said: "We've put consumers at the heart of our advice – advice which is based on the best available evidence and is focused on reducing the risk of gambling-related harm.
"In our judgment, a stake cut for Fixed Odds Betting Terminals alone doesn't go far enough to protect vulnerable people.
"That is why we have recommended a stake cut plus a comprehensive package of other measures to protect consumers. We have proposed actions that will tackle both the risk of harm and provide solutions that are sustainable in the longer term."
These include working with the gambling industry and others on steps to make limit-setting more effective – this could include ending sessions when consumers reach time and money limits.
Another recommendation is a proposed ban on machines being able to allow different categories of games to be played in a single session.
FOBT machines generated more than £1.8bn in tax revenue last year.