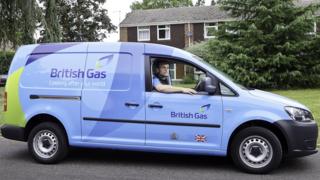 Centrica, which owns British Gas, is cutting 4,000 jobs as it continues to lose customers.
The energy supplier, which has operations in North America and Ireland as well as its main UK market, said group profits fell 17% to £1.25bn.
Chief executive Iain Conn said the firm had a "weak" second half of 2017, and it was not helped by political and regulatory intervention in the UK.
The firm's British Gas business shed 9% of its UK domestic customers in 2017.
Centrica said the job losses, which are part of an extended cost-cutting programme, would fall mainly in its UK energy supply business.
Investment in technology and the simplification of core business processes would result in cost savings of £1.25bn per year by 2020, the firm said. It expects to also create around 1,000 additional roles.
Mr Conn told the BBC the job losses were in part due to "intense" competition and partly due to customers "moving to digital".
He said the probable introduction of a price cap in the UK was another reason for the job losses.
"There is a link between our cost efficiency programme and preparing for any price cap in the UK. We've got to be competitive and this measure means we've got to drive more efficiency."
Government cap
Mr Conn said that the prospect of the price cap had also hit the company's shares.
Centrica's shares have lost more than half of their value over the past year as politicians focused on ways to limit the cost of energy to ordinary consumers.
Around 12 million UK households are charged some form of default tariff for their energy, which can cost hundreds of pounds more per year than the cheapest deals on offer. The government is planning to cap the standard variable tariffs.
Despite the fall in profits for Centrica Group as a whole, British Gas, which supplies energy to UK homes and businesses, saw profits rise 3% to £572m.
Since some UK customers have more than one account, Centrica said the loss of 750,000 customers amounted to a loss of 10% of British Gas domestic accounts. However, the company said 70% of those accounts were loss-making.
British Gas now supplies 7.8 million customers with their domestic energy.